As Thousands of people flock to Scotland's capital city to enjoy one of the most significant celebrations of arts and culture across the globe, Edinburgh's award-winning tram network is a reliable, cost-effective way to travel to and from most festival venues. With services running from every seven minutes from the airport to St Andrew Square, trams will also continue to operate until 1:30 am on Friday and Saturday nights throughout the festival season this month to help you make the most of a packed programme of events, concerts, exhibitions, poetry, street performances, and many more. Here are the highlights of the next few days and the nearest tram stops.
---
Image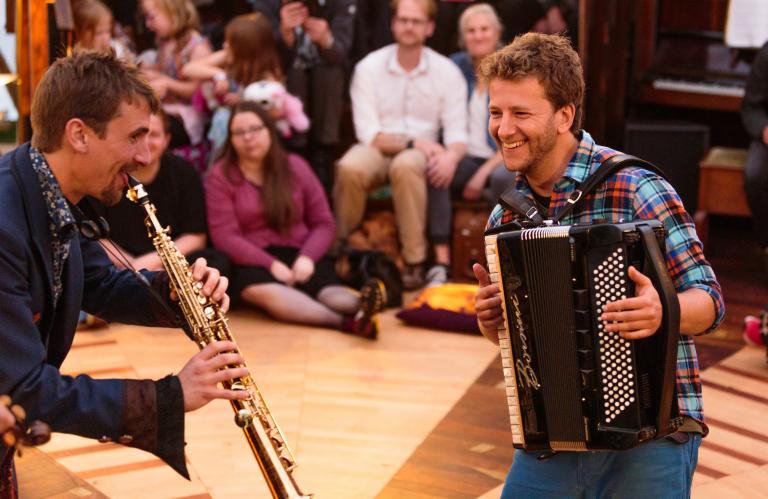 Friday, August 05 - Monday, August 29
Various times and locations
City centre tram stops for most venues.
Artists and performers take to hundreds of stages all over the city to present shows for every taste. From big names in the world of entertainment to unknown artists looking to build their careers, the festival caters for everyone. It includes theatre, comedy, dance, physical theatre, circus, cabaret, children's shows, musicals, opera, music, spoken word, exhibitions, and events.
---
Image
Saturday, August 06
09:00 - 17:30
Royal Highland Centre, Ingliston, Newbridge, EH28 8NB
A 20-minute walk from Ingliston Park & Ride tram stop
Scotland's biggest and best truck show returns to Edinburgh's Royal Highland Centre this August with all the latest models, major manufacturers, and breath-taking live main arena action. A great day out for the family, enjoy main ring action from Swamp Thing and other celebrities.
---
Monday, August 08 - Wednesday, August 10
Various times
Royal Society of Edinburgh, 22-26 George St, Edinburgh, EH2 2PQ
A 10-minute walk from St Andrew Square tram stop. 
The Jive Aces are a six-piece, UK-based band that was formed in 1989. The band was founded by vocalist Ian Clarkson, drummer Peter Howell, bassist Ken Smith, and saxophonist John Fordham. It is recognised as one of the top swing bands in the world, something out of their extensive international travel.
---
Wednesday, August 10
19:00
The Liquid Room, 9C Victoria St, Edinburgh, EH1 2HE
A 15-minute walk from St Andrew Square tram stop. 
Roy Ayers started his career in the 1960's joining the touring band of Herbie Mann. After going solo in the early 1970s, he released over 30 albums, composed the soundtrack for 'Coffy', a 1973 Blaxploitation film starring Pam Grier, toured and recorded with Fela Kuti, and was cited as a major influence by Pharrell Williams.
---
Thursday, August 11
20:30
Acoustic Music Centre, 14 Royal Terrace, Edinburgh, EH7 5AB
A 15-minute walk from St Andrew Square tram stop.
Veteran performer, singer, and guitarist, Jack Badcock has toured extensively on for continents. He is a frontman and founding member of renowned world-folk band Dallahan. A finalist in the BBC Young Traditional Music of the Year Award, his 2021 EP, The Driftwood Project, was nominated for Original Work of the Year at the Scots Trad Music Awards.
---
Edinburgh International Film Festival
Friday, August 12 - Saturday, August 20
Various times and locations
City centre tram stops for most venues.
Inspired by the unique identity of Edinburgh and our love of film, the Edinburgh International Film Festival connects audiences with innovative and essential storytellers. Intimate in scale, and ambitious in artistic scope, this festival is your annual celebration of the screen, at the heart of a global cultural gathering.
---
Edinburgh Trams is the award-winning operator of the city's tramway and information about current travel deals can be found here