As Scotland's largest indoor & outdoor venue, the Royal Highland Centre plays host to over 220 events annually.
Edinburgh Trams offer services from every seven minutes to Ingliston Park & Ride from the City Centre including interchanges with trains at St Andrew Square (for Waverley), Haymarket, Edinburgh Park Station and Edinburgh Gateway.The first tram from the City Centre is at 5.30am and the last tram from Ingliston Park & Ride is 10.50pm.
The venue has up to four entrances which may be in use depending on the event. Please check directly with the Royal Highland Centre on which entrance is in use for your event. All four entrances are accessible on foot via Ingliston Park & Ride tram stop.
Planning a visit to the Royal Highland show? You can find all Royal Highland Show information here.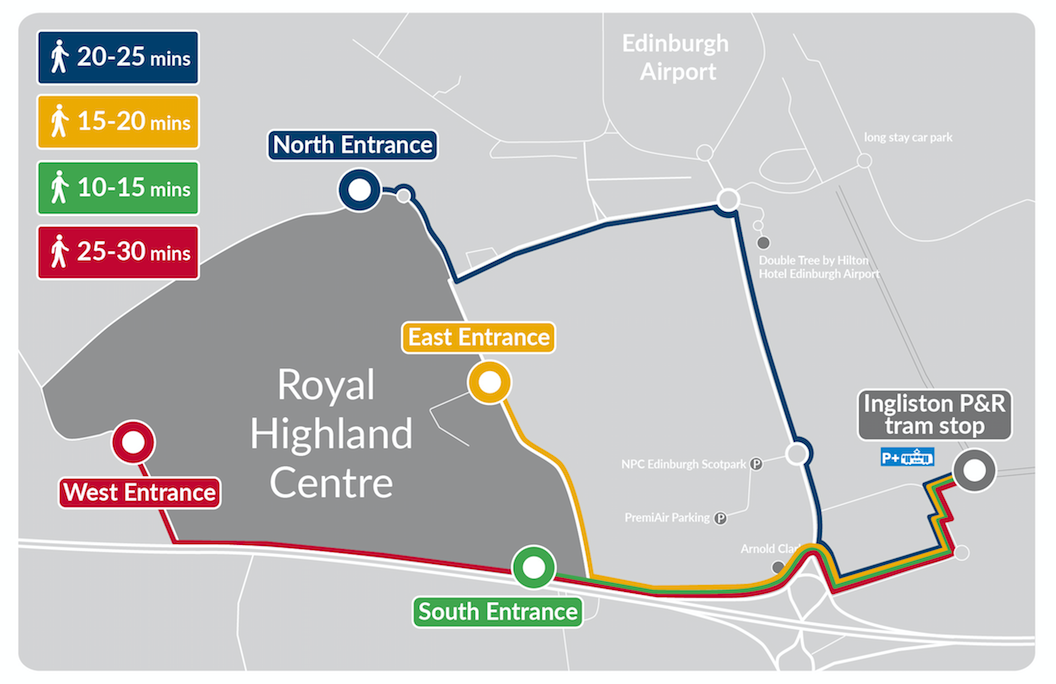 Please note: the South Entrance (green walking route) is only open during the Royal Highland Show.
Using the tram is an inexpensive way to travel to the Royal Highland Centre while helping to reduce road congestion in and around the venue.
Adult Single
city zone
£1.80
Child Single
city zone
£0.90
Adult Day Return
city zone
£3.40
Child Day Return
city zone
£1.80
Every tram stop has ticket vending machines where you can buy Single, Return and DAYtickets. Our ticket vending machines accept most debit and credit cards including American Express as well as 5p, 10p, 20p, 50p, £1 and £2 coins. No change is given.
With the official Transport for Edinburgh app, you can buy and load your phone with m-tickets for Edinburgh Trams and Lothian Buses. Your m-tickets can then be activated by scanning the QR code at the tram stop and used as you need them.
With our season ticket Ridacard, the more you travel, the more you save. It's our best value travel option and you can enjoy unlimited travel 24/7 across the city with Edinburgh Trams and Lothian Buses.
citysmart is the convenient, top-up ticket for tram and bus single journeys.
Available to buy online or from any of our TravelHubs, the citysmart card gives you the freedom to top-up as you go. You can top-up by visiting one of our TravelHubs or on any Lothian Bus.
Do you hold a Scottish National Entitlement Card? Did the City of Edinburgh Council issue it? If the answer to both questions is yes, you can travel for free on Edinburgh Trams in any zone.
Pre-book your tram ticket for easy and quick transfers from Edinburgh Airport to Edinburgh city centre. A range of Airport Single, Open Return and Multi-Day tram tickets available.
Tram Route